PHOTO: Belinda Dare-Cracknell performs for the judges at the ANB Oceana Titles in Sydney.

(Supplied: Ross Brownsdon Photography)
MAP: Maroochydore 4558
​
A gruelling training regime and a strict diet of boiled chicken and vegetables has paid off for a female Sunshine Coast bodybuilder.
Belinda Dare-Cracknell, 47, is set to represent Australia at the Australasian Natural Bodybuilding's (ANB) world championships in the Philippines, after winning first place in the physique division at the national and state titles this month.
Taking out the national prize earnt her a pro card from the ANB to compete as a professional in international bodybuilding competitions in the Philippines, Toronto, Canada and Las Vegas.
PHOTO: Ms Dare-Cracknell won a pro card from the ANB to compete as a professional bodybuilder.

(Supplied: Martin Dare-Cracknell)
While she wears a beaming grin on stage, bodybuilding is not a sport for the faint-hearted.
In the lead-up to the Australian titles, Ms Dare-Cracknell was on a gruelling training regime and a strict diet of boiled chicken and vegetables.
Her stage weight was 58kg with 6.5 per cent body fat.
"It's not normal. Normal people do not do this," Ms Dare-Cracknell said.
"It's really hard and there are times during prep where your diet is so brutal, you are so hungry.
​
"I get so hungry, I get sick. You get moody. There's a lot of stress on your home life.
"We diet extremely hard and we live on macro nutrients which we're weighing off food.
"Everything we eat is tracked and weighed, every single day.
"So, it takes a lot of mental strength and I think most people just wouldn't want to do it."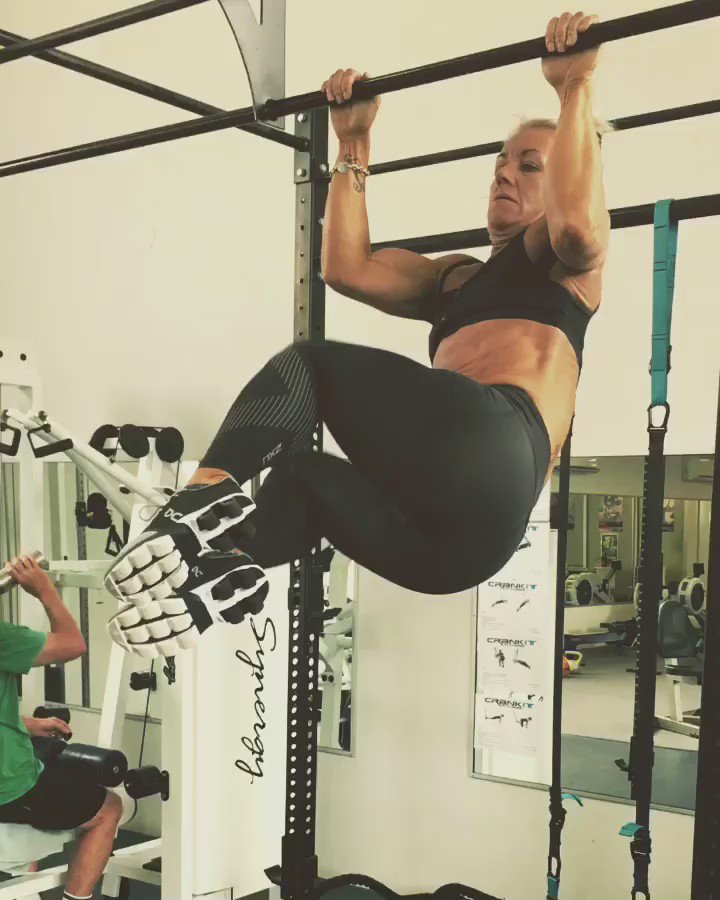 Belinda J D-C
@kisskissbelinda
#gymjunkie
@MySunshineCoast
#trainmean
#absrule
#figurecompetitor
#inba
#brisvegasshow
@TheRock
@craigfairbrass
#meanmachine






4:57 PM - 3 Oct 2016 · Sunshine Coast, Queensland
​
Twitter Ads info & Privacy
[h=2]Strength of mind[/h]
Over the past 10 years, the inclusion of a range of bodybuilding categories has allowed women with a more natural physique to compete at top level events.
Ms Dare-Cracknell said it was about pushing the natural boundaries of health and fitness.
"I trained in gyms for probably 15 to 20 years and I always had a goal that before I was 50 years old I would compete, but I also knew how hard it would be to commit to the whole preparation," she said.
"Then last year I just woke up one day and said, 'That's it, it's now or never'."
While the vivacious Queenslander found it difficult to articulate her passion for bodybuilding, she likened it to finding her happy place.
"I just want to compete and I love muscles and I love lifting," she said.
"It's like a solus. It's just me at the gym. I put my music on and it's me, myself and I just lifting the weights and it just makes me so happy, just to be in that place.
"If I could just lift and train all day, every day, I'd be so happy."
[h=2]All in the form and technique[/h]
Ms Dare-Cracknell will represent Australia in Manila in October, and she hopes to make an impression at that event as she has in her home country.
Head judge at the Oceana titles, and ANB national director, Phil Lehner, said the 47-year-old had won the competition because she was "well-muscled".
"Belinda's condition was superior to the other competitors in her division," he said.
"As a physique competitor, it took a year of hard work in the gym, and to compete it takes extra hard work and dedication to training and diet.
​
"It's a very competitive sport."
Mr Lehner said it was a tough year to be competing.
"We had competitors from all over the Asia Pacific region," he said.
PHOTO: Ms Dare-Cracknell shows off her trophy after winning the physique division at the ANB Oceana titles in Sydney.

(ABC Sunshine Coast: Janel Shorthouse)
"Belinda was in a very tough line up. She had to work very hard on stage to earn her win."
Mr Lehner said armed with a pro card from the ANB, Ms Dare-Cracknell had the opportunity to make an international mark.
"Belinda will come up against the best in the world of natural bodybuilding," he said.
"She has a lot of hard work ahead of her, and the ANB wish her nothing but success."